Population Health Management
Population Health Management provides comprehensive, authoritative strategies for improving the systems and policies that affect health care quality, access, and outcomes, ultimately improving the health of an entire population.
The unsustainable growth of health costs, the growing lack of access to healthcare, and increasing disparities in care have forced the U.S. to start changing how healthcare is delivered. The first major step in this direction was the HITECH Act, part of the American Recovery and Reinvestment Act of 2009. This legislation authorizes up to $19 billion in federal subsidies to doctors and hospitals for the Meaningful Use of electronic health records.
Second, the Patient Protection and Affordable Care Act of 2010 includes provisions that encourage providers to begin taking responsibility for the cost and quality of care. These sections of the law authorize demonstration projects to measure the value of patient-centered medical homes and payment bundling
The health reform law also instructs the Centers for Medicare and Medicaid Services (CMS) to create a shared-savings program for accountable care organizations (ACOs), which are groups of hospitals and doctors committed to reducing the cost and improving the quality of care
Automation developed by Sargas HIPAA compliant cloud and Sargas mHealth applications makes population health management feasible, scalable and sustainable
The goal of population health management (PHM) is to keep a patient population as healthy as possible, minimizing the need for expensive interventions such as emergency department visits, hospitalizations, imaging tests, and procedures
PHM systematically addresses the preventive and chronic care needs of every patient
Such an approach requires the use of automation developed by Sargas and its team of advisors comprised of doctors, clinically trained staff and engineers. Not only are there not enough providers and care managers to manage every patient continuously, but PHM also involves a large number of routine tasks that do not have to be performed by human beings. Bringing modern information technology to bear on these tasks saves time, money, and makes PHM economically feasible.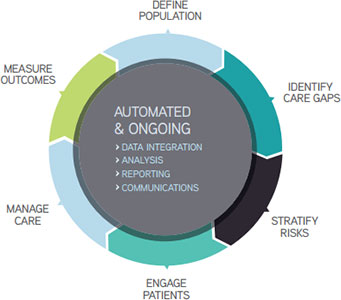 In an organization dedicated to PHM, providers must care for patients between as well as during encounters. Care teams must strive to deliver appropriate, evidence-based care during patient visits, but they must also ensure that care gaps are addressed when patients do not come into the office. That requires motivating and collaborating with patients to help them take care of themselves. Care teams must also find ways to help patients understand their care plans and the importance of complying with recommended guidelines.